Peek a boo! Bunny. Simplicity 2250 - stash make.
Posted by Maree Cunningham on
Peek a boo Bunny! Simplicity 2250
Sewing from my stash -both pattern and fabric, it make me feel good and there was no additional expense. Yeah.. bonus!
Its so good to finally be able to bring to life a pattern that ended up in my reject box and the discovery of the perfect piece of fabric for this pattern.
Last year I had a bit of a clean out and decided that if it was one of those free patterns we get with the sewing magazines, if it wasn't my style, likely to make it or my size - to the charity shop it was going.
Simplicity 2250 ended up in this pile but was quickly retrieved upon a post on one of the many sewing forums I belong to. Someone had made up this dress and I thought it wasn't that bad after all and the fact I had found a really cute bunny fabric that I wasn't sure what I would make from it. I had the light bulb moment.
Off to the garage I scurried..
Okay so both have lingered about for another year and I am happy with the end result..
I have to be honest this one has also ended up as a bit of pattern hack. I have not stayed completely true to Simplicity 2250. But that is sewing .. we don't have to stick to everything from just one pattern. We can take elements from several that we love and create something that we will truly love..and that is what I have done.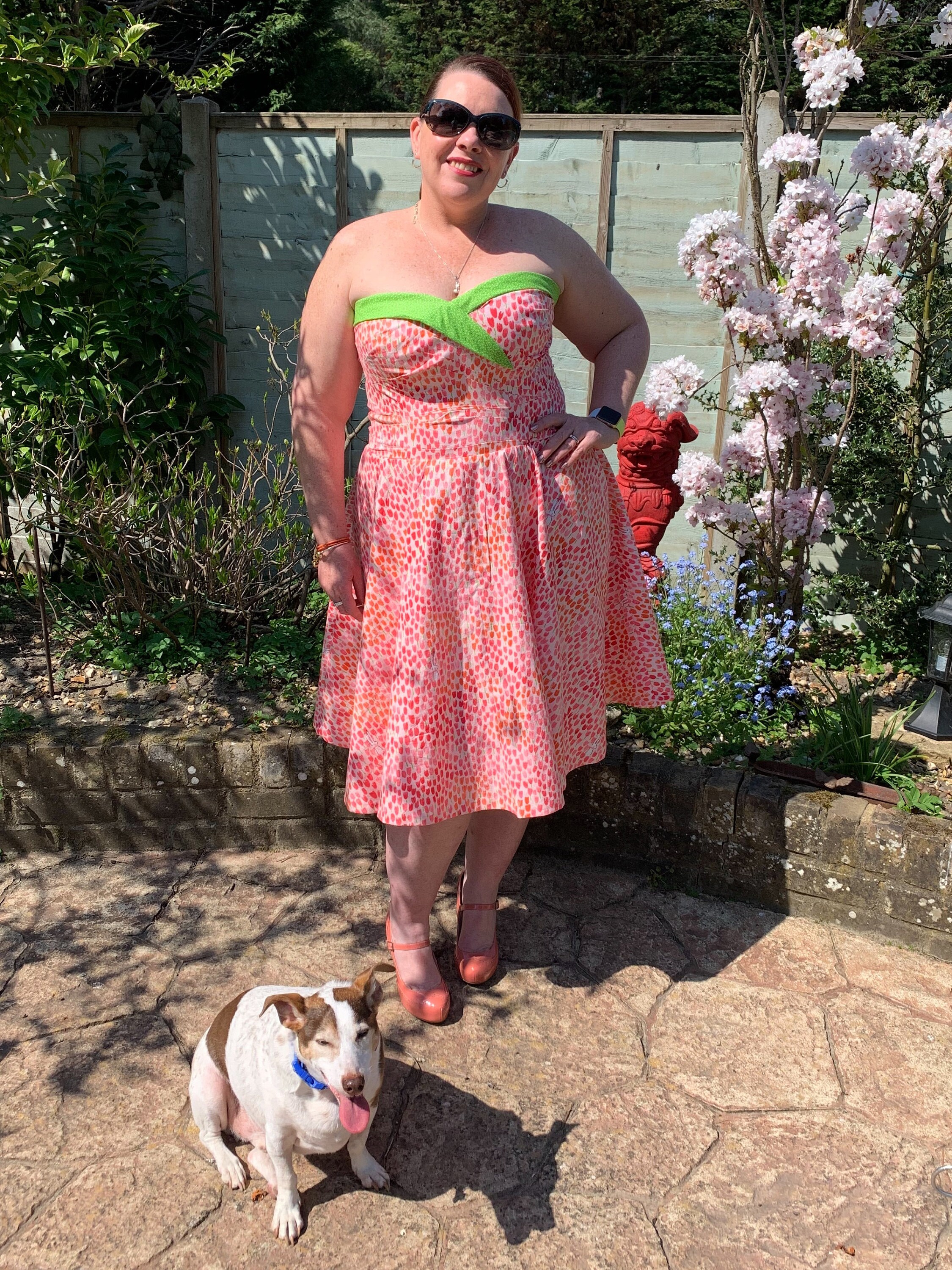 Simplicity 2250 was a free pattern in a size 6-14. The down size to a free pattern is you don't always get the size you are.. and as I just wanted to sew on and no time was had to try and do a pattern swap on line.. so a little creative grading was needed to be bodice half of this pattern.
In simplicity 2250 I am an 18 in the bust and a 22 in the waist. Hips off the chart, but it's a gathered skirt so I didn't care. Just as well I am not one of those girls that flip out when I look at something and scream I am not a size 22! How can that be…
This pattern has a gather and pleated style bodice which is what I like about this particular pattern and then underneath as the lining just a standard 2 panel bodice. The back is all one piece- a little unusual but hey, it worked.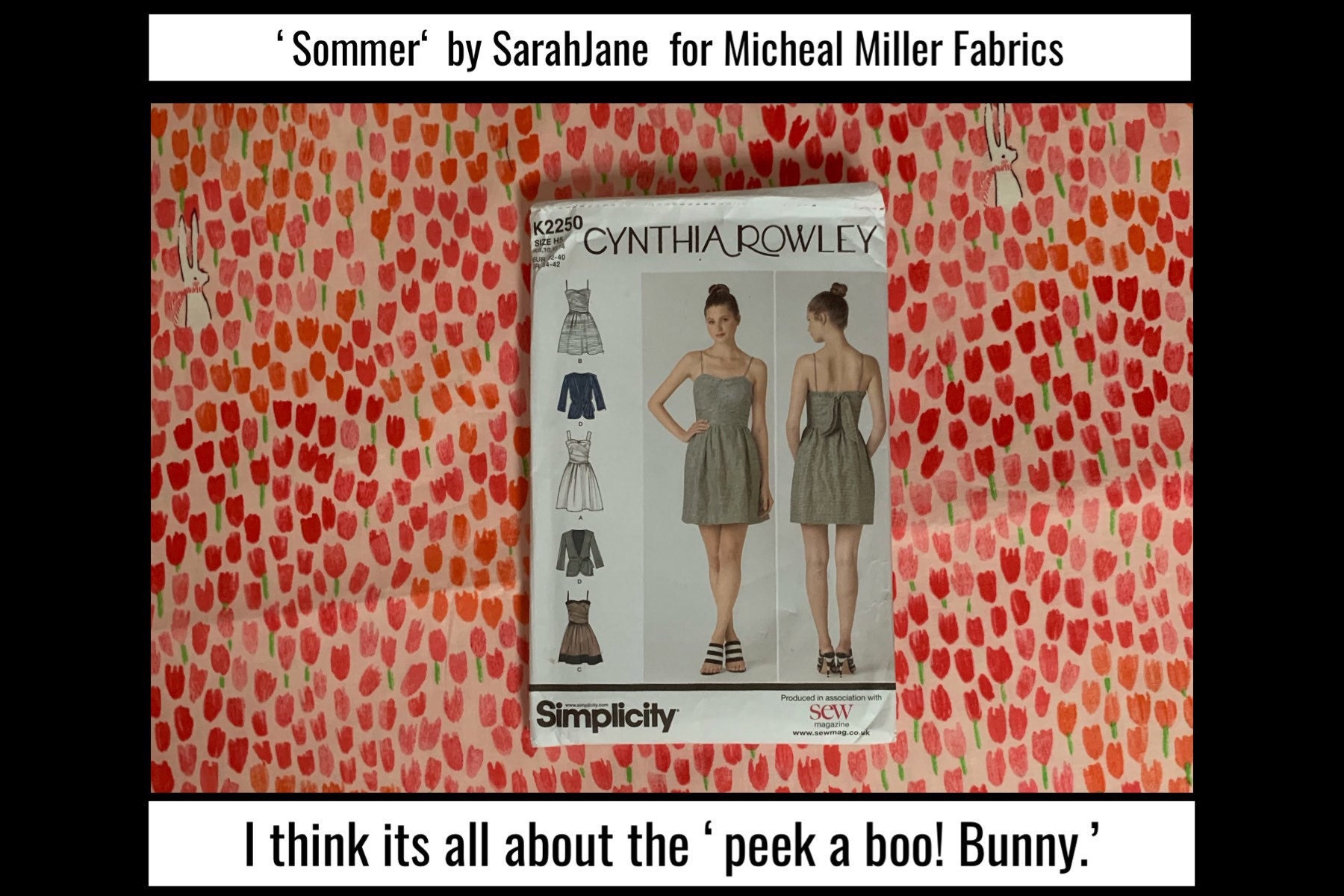 So I grade the under bodice / lining up to the 22 waist- fished out my strapless bra and then fitted the bodice lining back to me. I always find that by grading to the larger size, I get a nice fit over my bust and it's the quickest method for me.
Upon doing this I discovered this pattern is a true midriff design that I stop wearing when I was 25….
But I loved the gathered style pleats of this pattern and I just knew it was going to be perfect for my peek a boo bunny fabric so began the painful task of adding in 8cm to the length of pleated bodice design and making sure it looked like it was meant to be..
I lost the best part three days of my life in that process that I will never get back. I did three test patterns, but sometimes that is just the price we pay.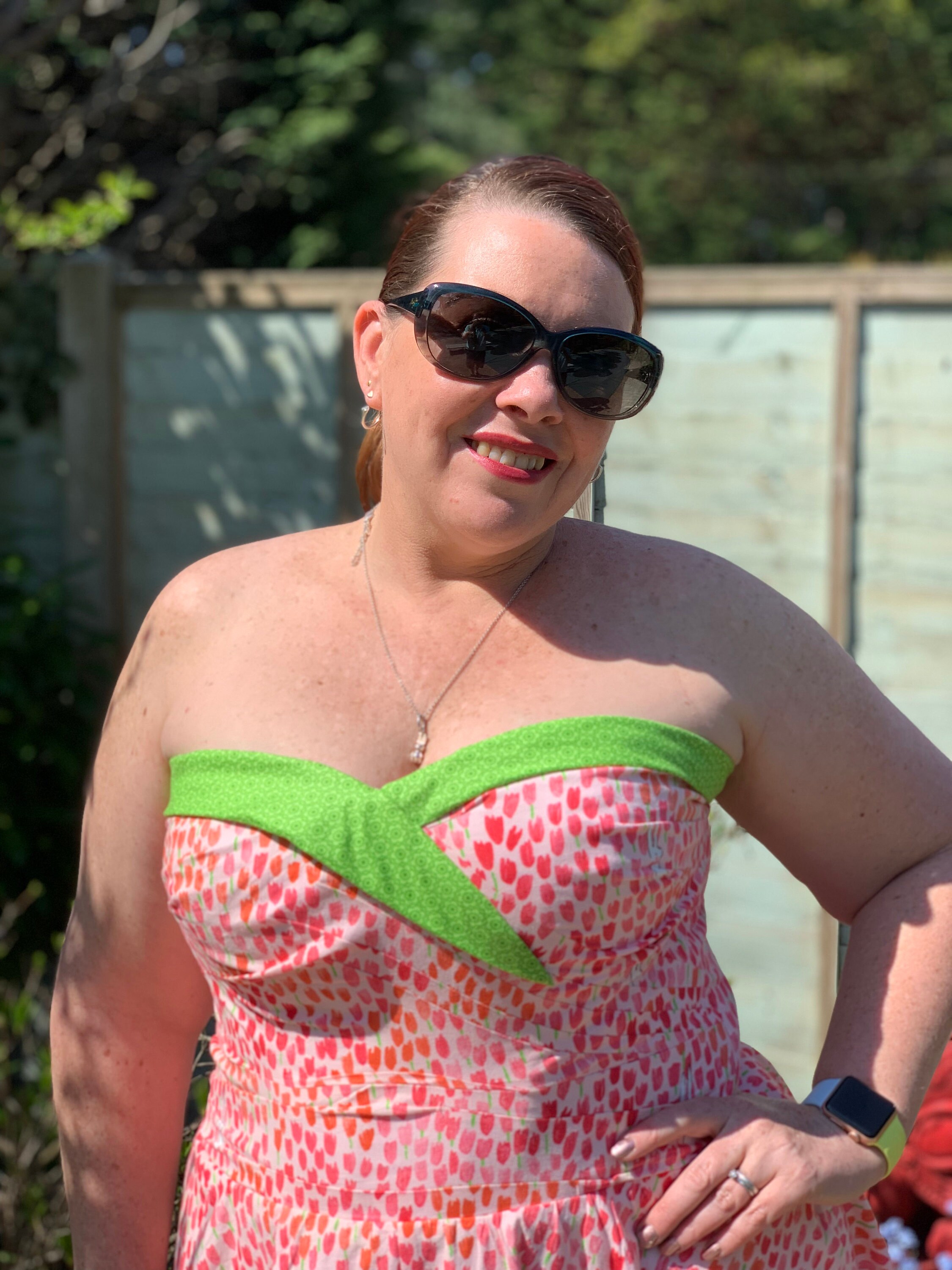 Once that was cracked and I was happy with the end result, I was free to cut into my fabric and able to begin some actual sewing. At one stage I never thought it was going to happen and it was destined for the ufo pile.
The skirt, I did a ¾ circle skirt- my favourite option and added pockets.
Another pattern hack. I used my 'go to' circle skirt pattern from Gertie's Lamour dress. I hate the pockets she designed with this dress and use the pocket pattern from another of her patterns. Butterick B6556.
I feel, that if pockets are attached at the waist they are more secure and their shape doesn't distort as much also if I stick something like my phone in them they are less likely to pull..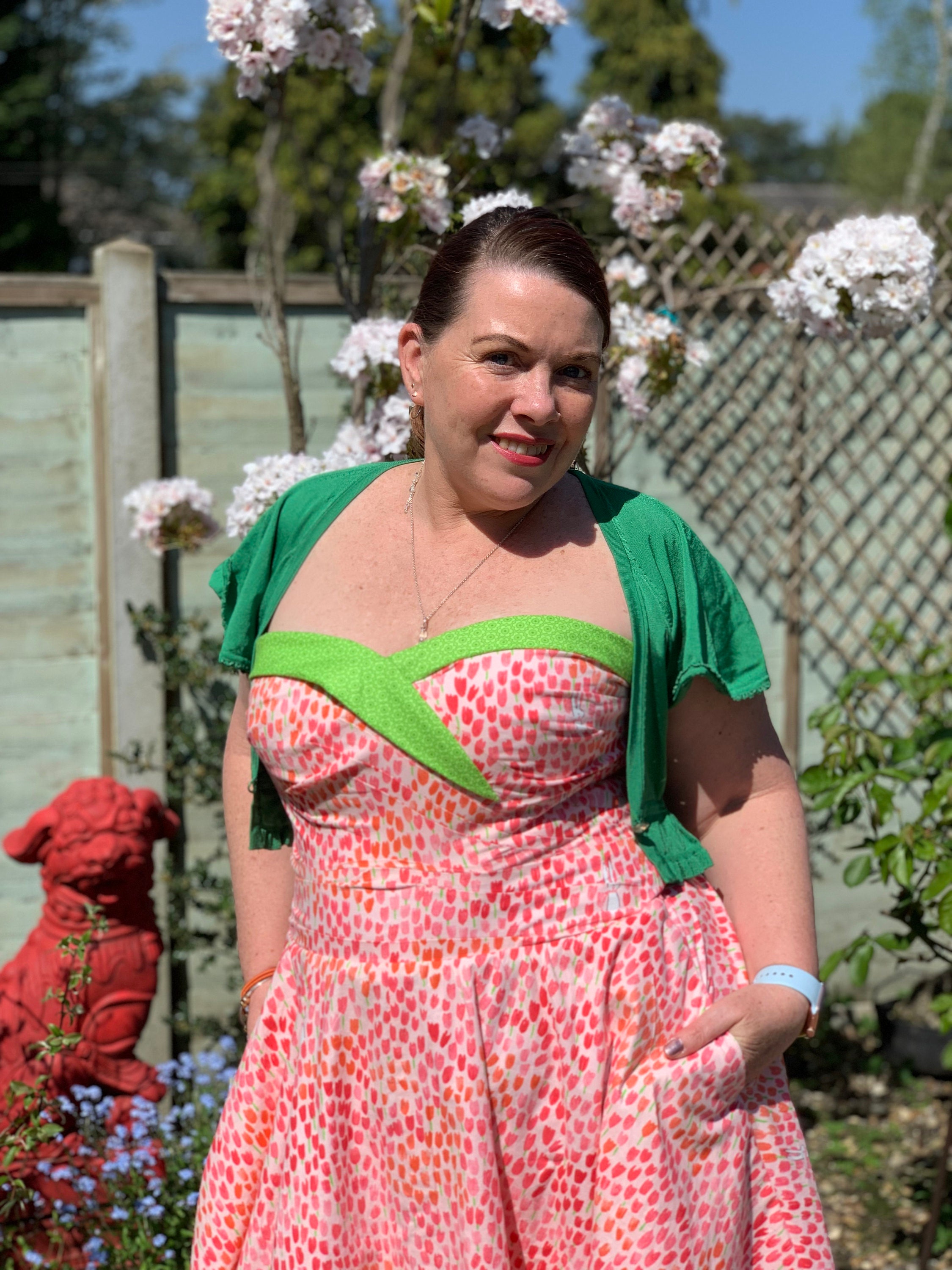 More to the point I still have my mother voice in my head saying at 46 saying 'don't put your hands in your pockets as you will stretch them'. So I have spent a life time as a sewer either making fake pockets so I can't be tempted or never including pockets.. but after a trip to Disney, pockets make sense to have quick access to my phone..so pockets are now included.
Skirt and lining -cut and made to let hang for a few says.
Bodice lining cut sewn and boned.
Outer bodice, pleated, gathered, assembled. Not as hard as one first thinks, but take your time and iron in each pleat and gather as you go and you will get a perfect result.
Two main piece, become one.
I binded the lower edge of the bodice as I really wanted a contrast on the inside of my dress. I am just as much about how it looks on the inside as the outside and a waist stay.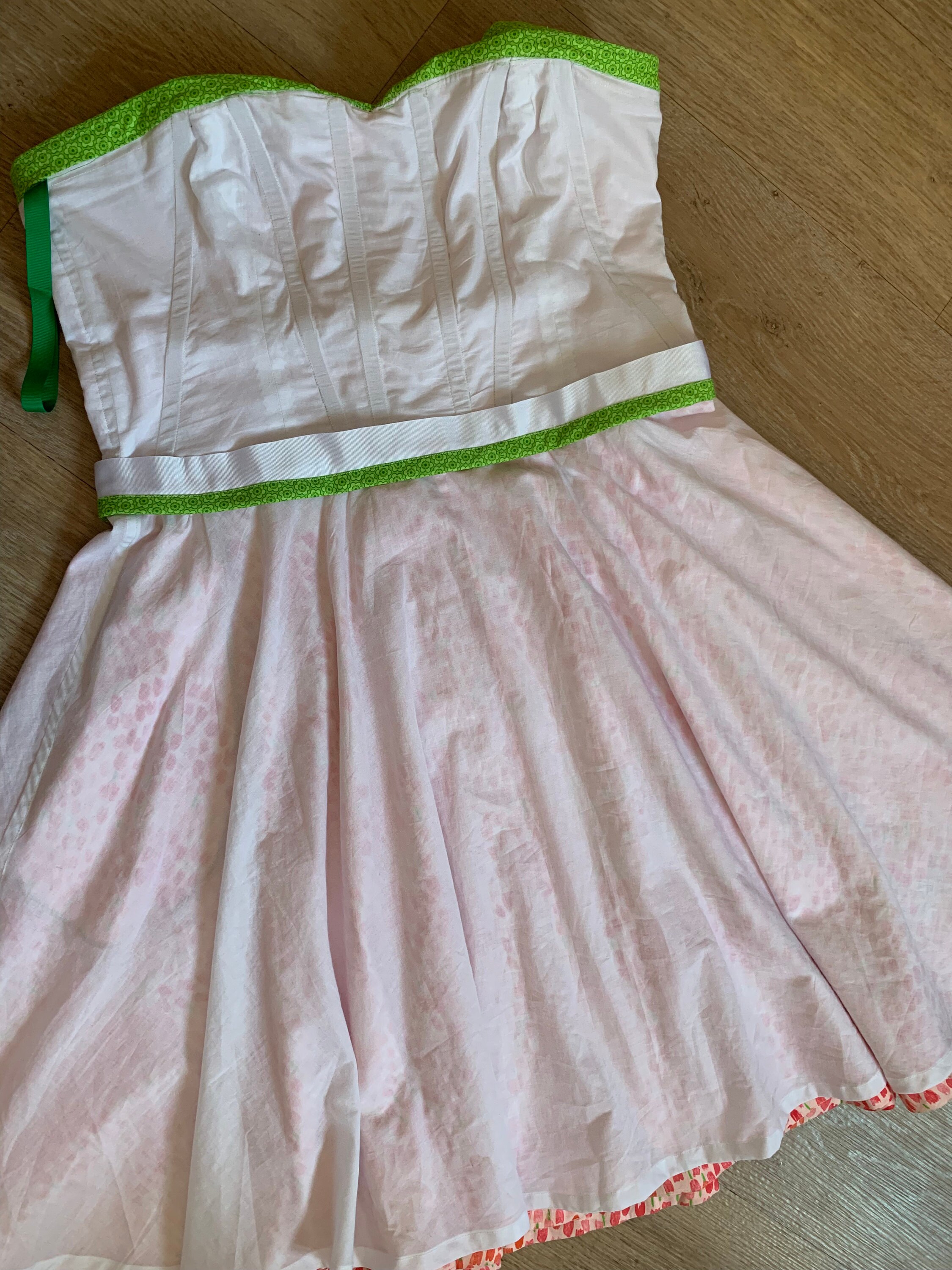 Again finishing off the neck line is different to the pattern.
Go to Gertie's Ultimate dress book as I know she had done a bias band on a dress and I just wanted to see how she had done it.
Cut two 15cm wide bias stripes in contrast green -again found from my stash- to finish off my neck line.
Dress made and ready for Easter Sunday.
Cardi and shoes even in wardrobe that match.
Husband happy as I haven't declared that I need a new pair of shoes for my Easter Sunday dress, but I am now thinking they should be green.. so maybe new shoes are needed…
Upon finishing this little number I feel, its not quite there yet.
I think I want a nice white tulle petticoat to wear with it- edged in the green and I think it needs straps -not sure if it should be halter or just shoulder and a lovely green belt. I think that what I will work on this week along with doing my bodice fit for Vintage charm vogue V8974..
Sewing for a Mad Seamstress never ends.
Sew.. till next fortnight.. sew on people and I will be back with my next make.
Pattern- Simplicity 2250. Fabric 'Sommer' by SarahJane for Micheal Miller Fabrics. Quantity used- 4 metres. Lawn for lining.
---
Share this post
---
---
---
0 comment