McCalls M6696 Kashmir Gardens shirt dress.
Posted by Maree Cunningham on
Finally we have had a Sunday where hubby and I could go off and take some pic's of my latest making using fabric that is available in my 'a Mad Seamstress' shop.
The last two weeks, it has been a howling winds and rain so I was so happy when the sun shone today.
My latest make is an old favourite – the McCalls shirt dress pattern M6696. This is my third make using this pattern.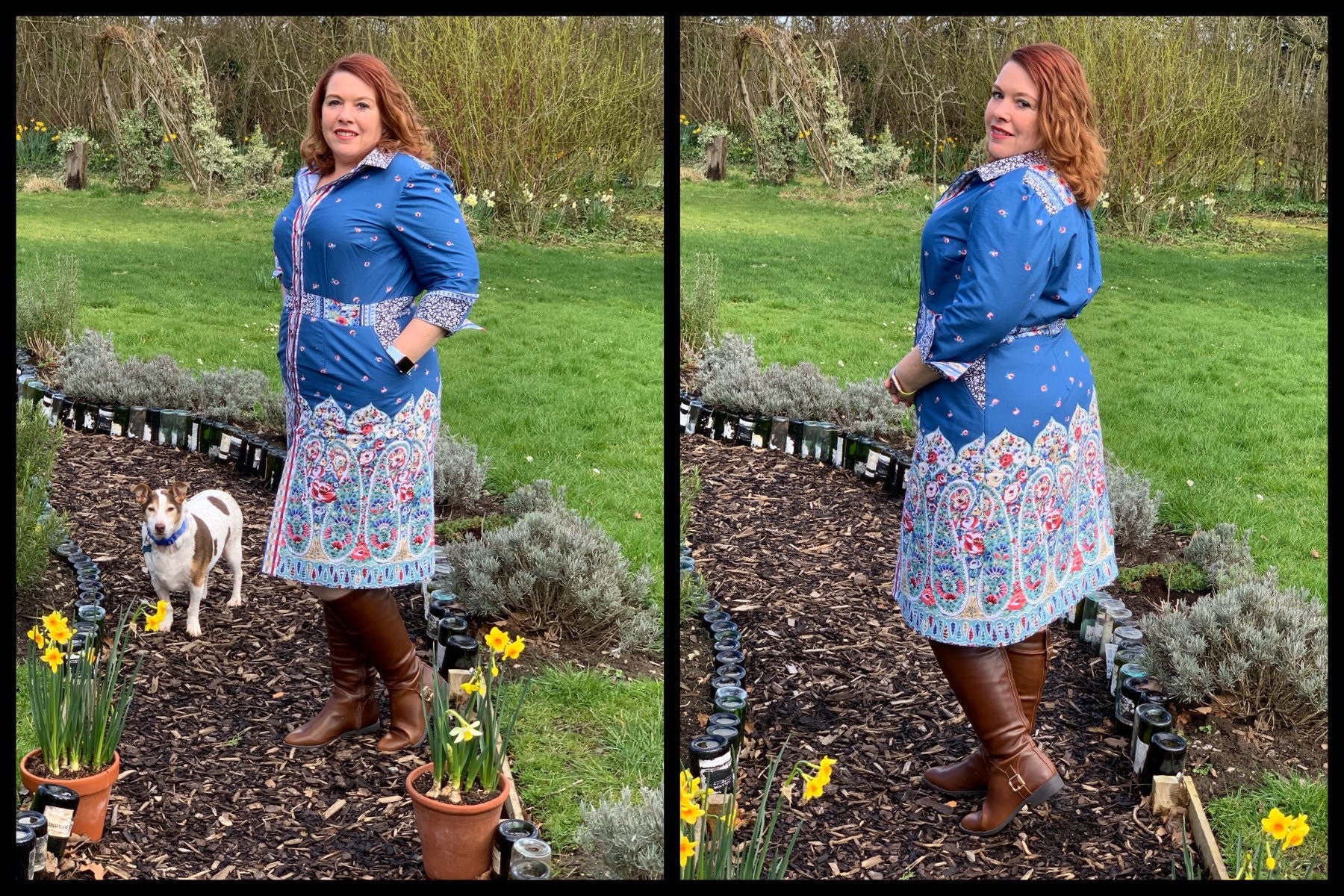 I love this dress pattern as it's perfect with trainers, boots or heels. I also mix it up with wearing it with jeans or leggings as I like to wear it more open as a coat style dress.
My previous makes in this dress have been bright and bold but I love how this dress has turned out using a deep navy border print fabric that has created a much more classic look to this dress.
This fabric is from Michael Miller and the collection is called Kashmir Gardens. I have gone with the blue colour way from the collection but the pink colour way would make a stunning dress with it pink, orange and teal tones – just perfect for spring.

I have used a mix of three fabrics in the blue. The main border print, the border stripe and the narrow coloured strip.
I love the dark grey, crazy paving style part of the print in the double border piece and used that as my main colour block piece with my pockets, outside of the collar and cuffs and then the rose or the narrow stripe on the underside of each.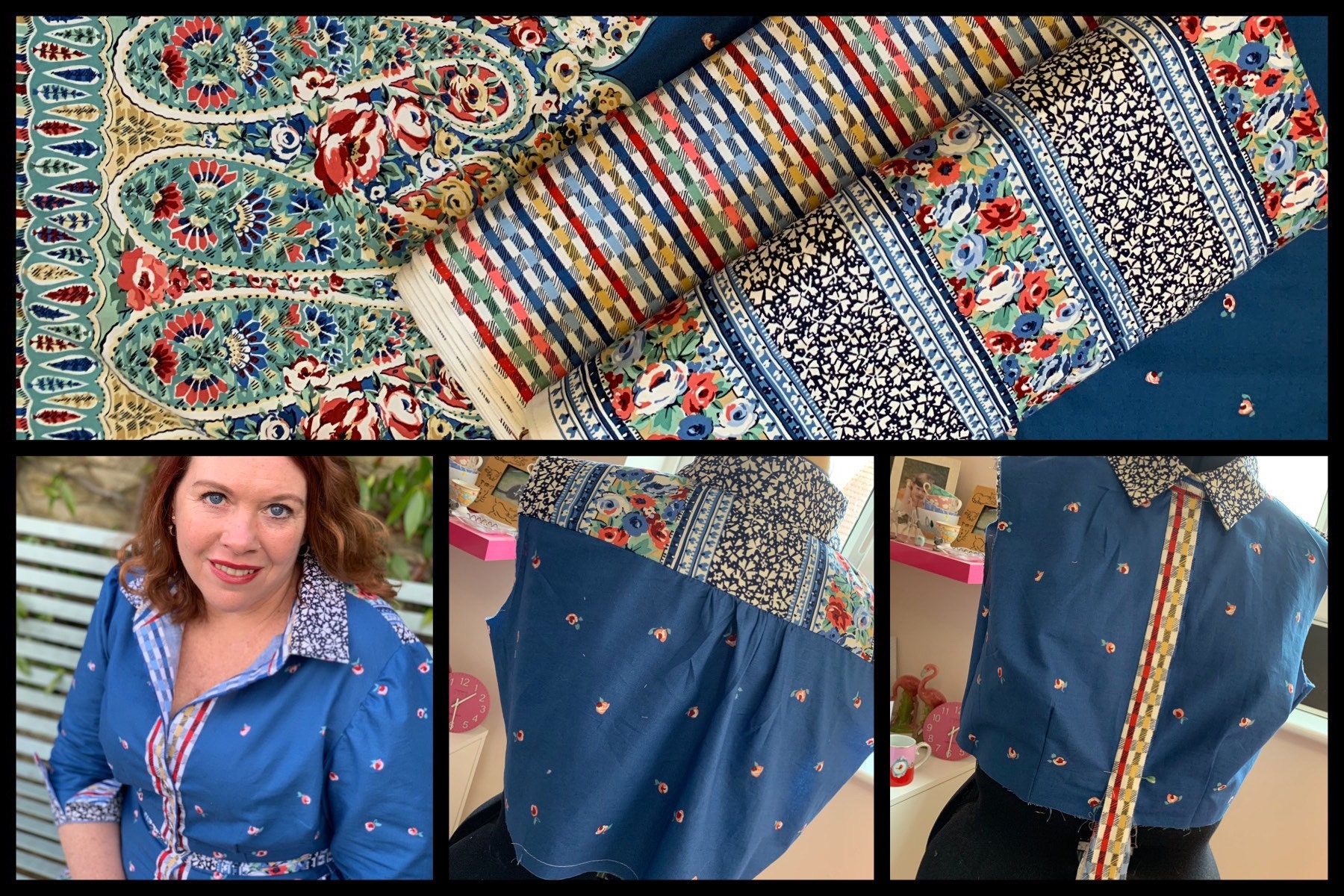 I have to be honest, using border prints to create a garment isn't the most efficient use of any fabric but the moment I saw this collection I just knew it would make the perfect shirt style dress.
My fabric usage was a higher than the pattern requirement of 3.3 metres. I used 3.2m in the main fabric / paisley border print. Another 1.2 in the double border print as I mainly used the crazy paving part of the print and a length of 1.1 meter in the narrow stripe ( I choose to have the stripe run down and not across which upped the fabric meterage.)
Over the years I have learned to live with my high wastage of fabric. Yes, I have boxes of large scapes and pass on smaller bits to local craft charities as I just can't keep and recycle everything.
As home sewist on average we tend to waste around 30% of our yardage per garment, which I think means we are all a bunch of fussy buggars who are more obsessed with pattern matching with a print than what we realise.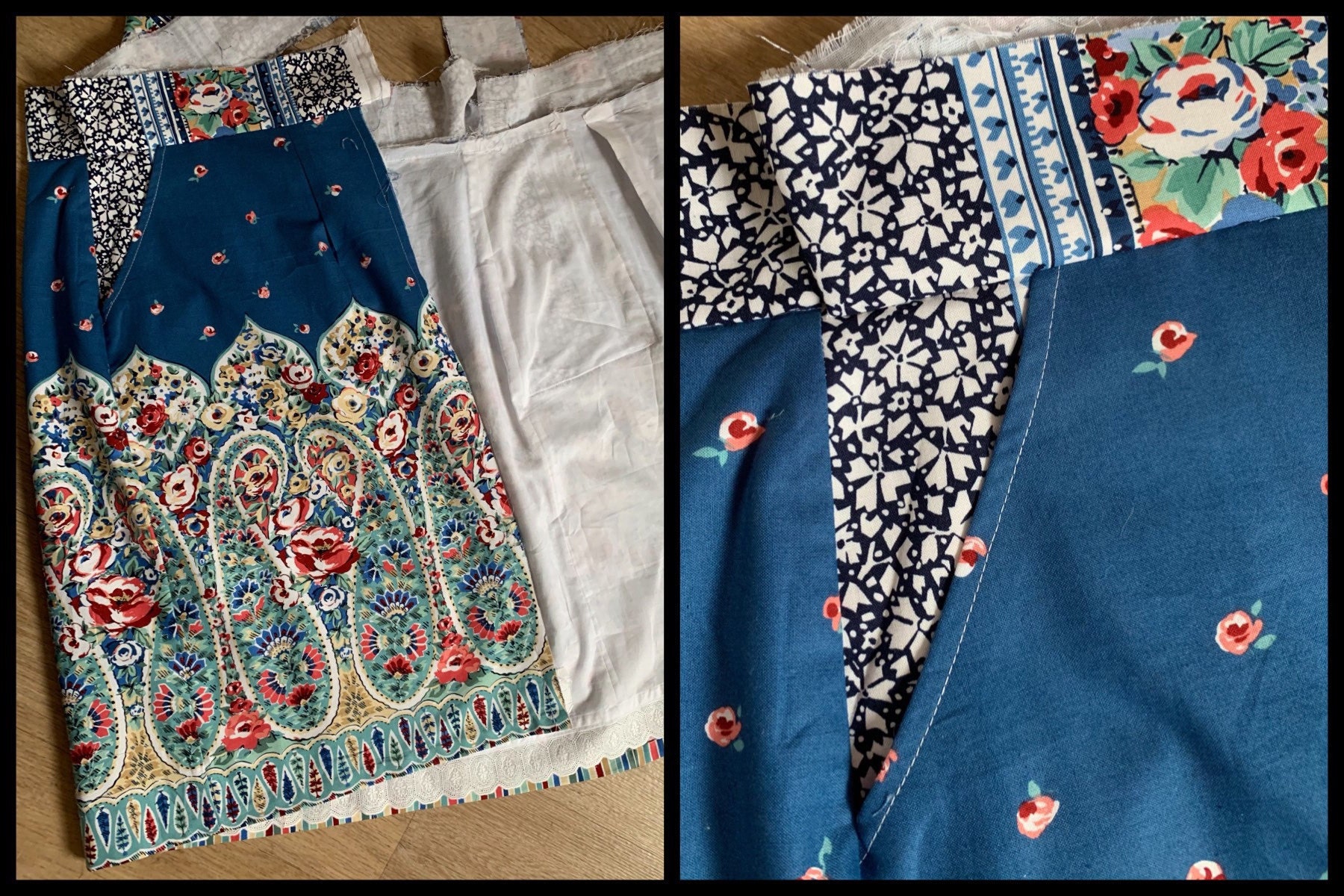 I wanted a more winter look for this dress so I did a lined skirt that the pattern didn't ask for. I wanted the dress to be a little warmer when I wear it with a pair of boots, also this allowed me to reinforce the pocket. I know we all love pockets in our dress and by having the second bag layer hopefully it won't stretch out of shape!
I still need to make a slip for this dress but to be honest I don't know if I want a white one with a colour trim on it, or maybe a splash of colour underneath.
I also add a side seam into the waist band of this dress as I find you get a nicer fit with doing this and it suits my shape so much better.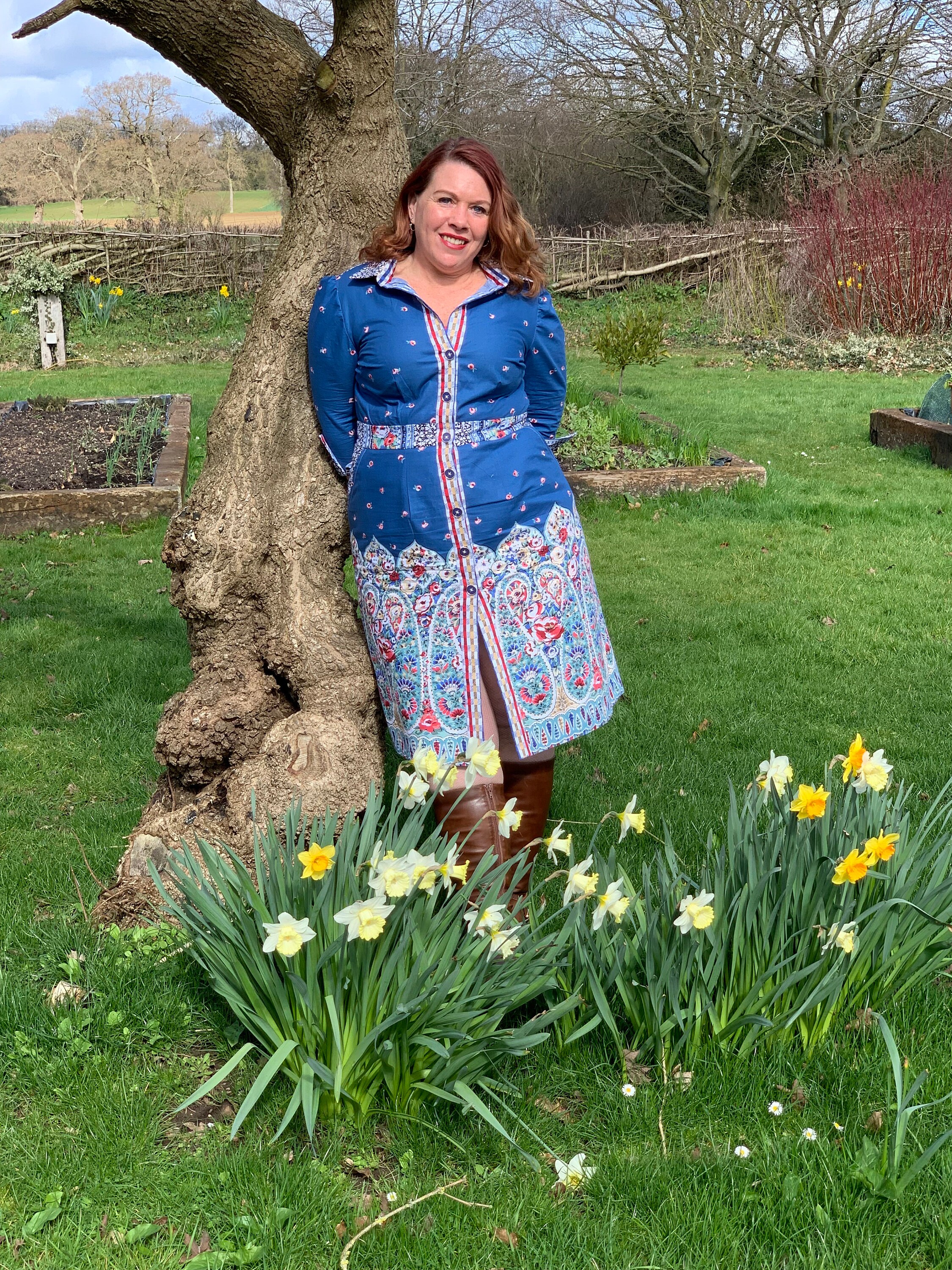 The worse bit about this pattern it is that back always poof's out slightly. When I'm carrying more weight it tends to ride up more which create's more poof, as I am someone's who's weight always seams to fluctuate around 5kgs.
I know some people do hate the back gathers in dress and they find it a little off putting, but I have learned to live with it and it didn't really bother me that much.
It has taken me a good two weeks around the day job and a sick puppy to make this dress and I am really happy with how it has turned out. I find it takes longer when I am using a number of fabrics as I start with the main one and make my decisions as I go, as to what will actually end up where..
I know this Micheal Miller Kashmir Gardens fabric, for some of you will be quite a bold choice but compared to the other two dress that I have made using this pattern I would say it's quite tame, but I love how the use of a border print looks in this design.
A perfect statement, but not too loud. For me, this is nothing less than a classic staple in my wardrobe.
Sew for now, happy sewing everyone and I hope I have inspired you to pick up the next border print and sew outside your comfort zone.
Now...for me, what to sew next.. There are sew many options...
PS - Heres my other two makes of this dress. The yellow shoe and wonder woman definitely bring a smile to faces when I'm out and about in these..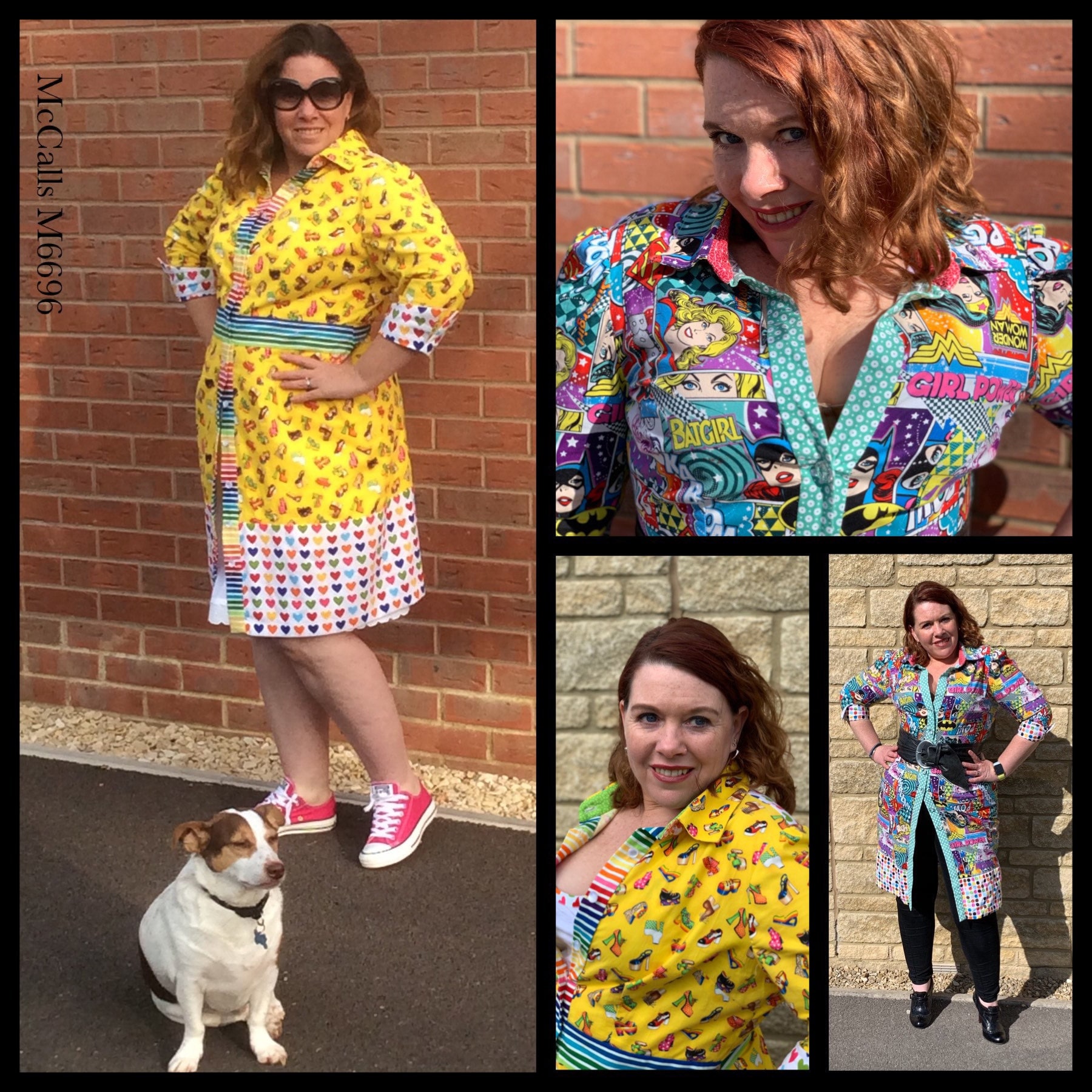 ---
Share this post
---
---
---
0 comment