A border print jump suit! with a side serve of pattern hacking.
Posted by Maree Cunningham on
A border print jump suit! with a side serve of pattern hacking.
I was inspired by Candace Owen on WeSewRetro Sew & Tell. She popped up in my new feed last month in an amazing jump suit. In one of my all time favourite Michael Miller double border prints and a very 70's retro pattern.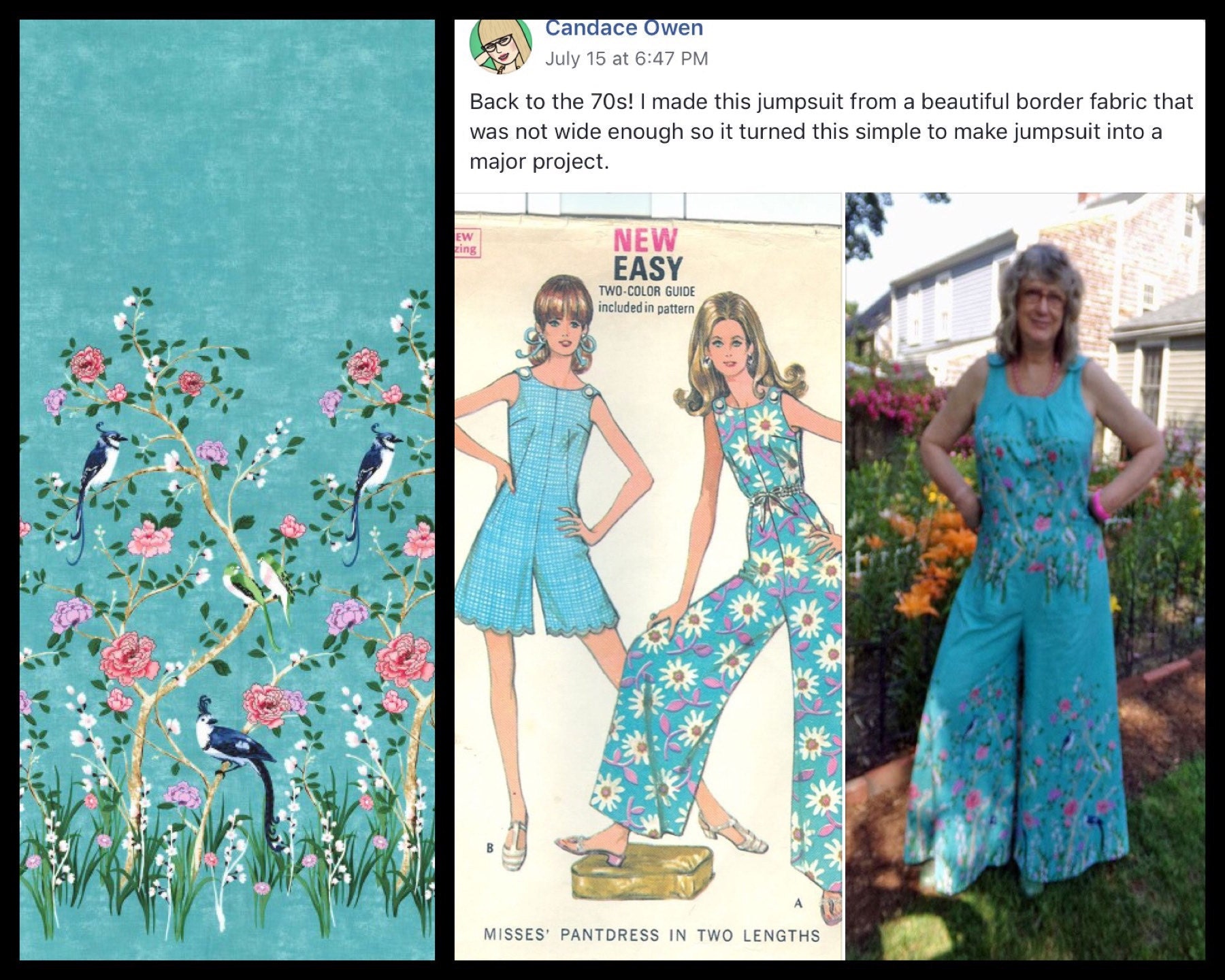 Oh my giddy aunt.. I couldn't tell how the fast the adrenaline rush came. I don't know what I was more excited about – a fabric from Michael Miller that had to be available in stock somewhere.. I've never managed to get any and keep lusting after it. -Its one of those things- if you can't have it, you want it more.. It's popped up twice recently on sewing groups I follow and I'm still still trying to find stock of it!  Anywhere.. Please MM if you see this post and want to send a couple of rolls my way, I would be sew.. happy!
Moving on from my fabric obsession.
After seeing Cadence in her border print jumpsuit, I was sew inspired and just had to have one. I went pattern stash hunting as I contemplated what fabric I had in my shop and my personal stash that I could use to create my own.
For my fabric choice I opted with the Michael Miller
Les Jardins border print
and then pattern hacked my way to a jumpsuit.
I have mixed two patterns vogue 8872- which is now sadly a discounted line and was purchase because I love the asymmetrical bodice style and had always planned to use this pattern for a jumpsuit. For the pants I went with McCalls M7167.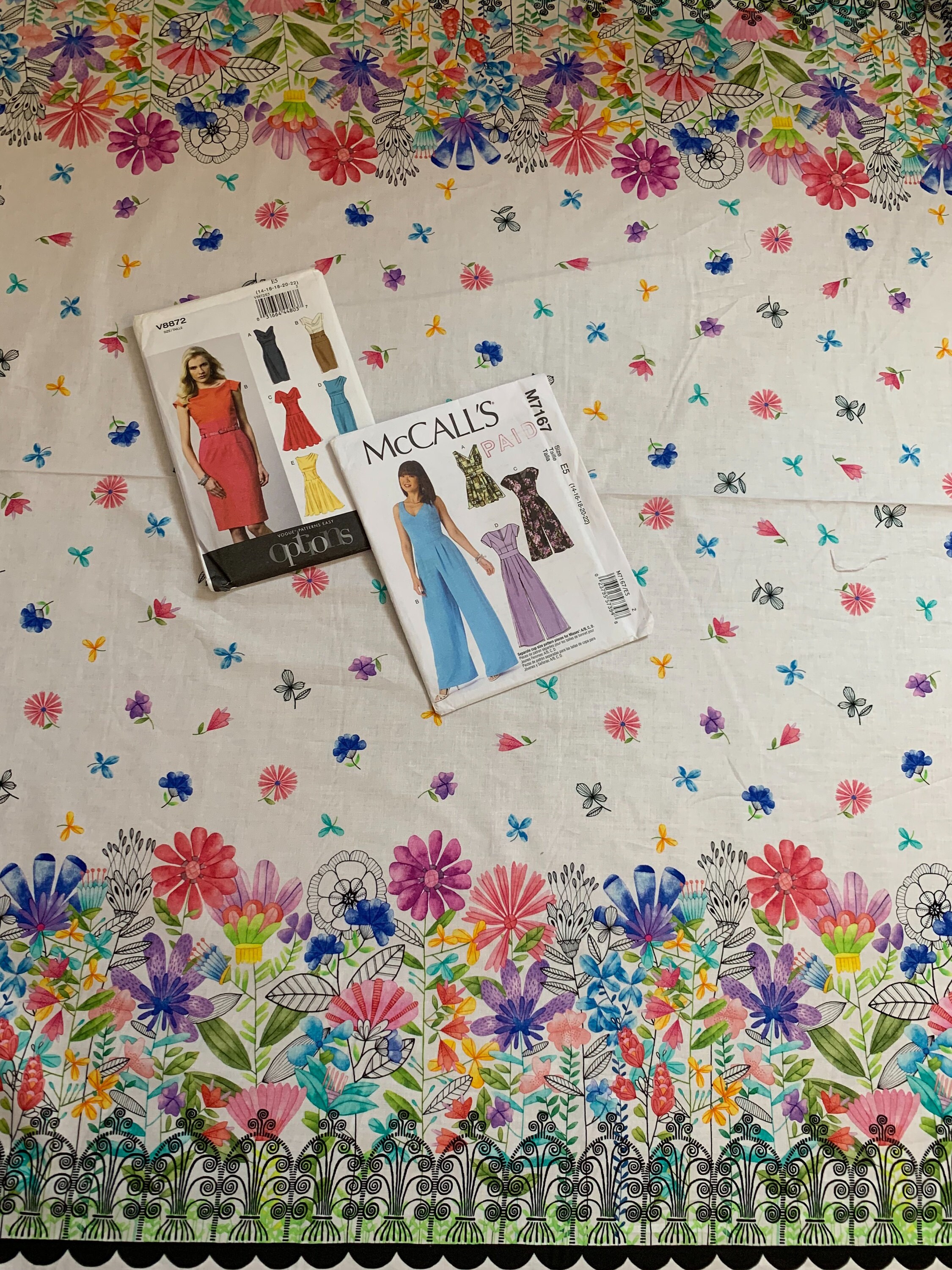 I was completely reckless and didn't do a test pattern first.
I worked on the theory that's if the pants didn't go to plan, they would become pj bottoms with a gathered corded waist and as for the top half; empire styling always works on me and as long as I cut my pattern as follows, I wont get too many fit issues.
14 neckline, 16 shoulder, 18 armhole and side seam.
Empire waist bit- 18 at the top taking down to a size 20 at waist.
Generally this random form of sizing works on me and being an empire line style bodice, I should be able adjust the fit where needed without too many problems..
My only real concern was how my pattern placement going to work out with this border print. I did have to stop and think about it a couple of times, before I chopped into the fabric, what it was going to end up like.
I did think twice about my fabric choice. Due to it being a white cotton and I was worried about the see thoroughness of it.
I did a half pant leg lining which was all I need. I finished the inside of my pant leg with some beautiful broderie anglasie trim, which makes it feel very couture. I used the length of the pant leg from the play suit option for this.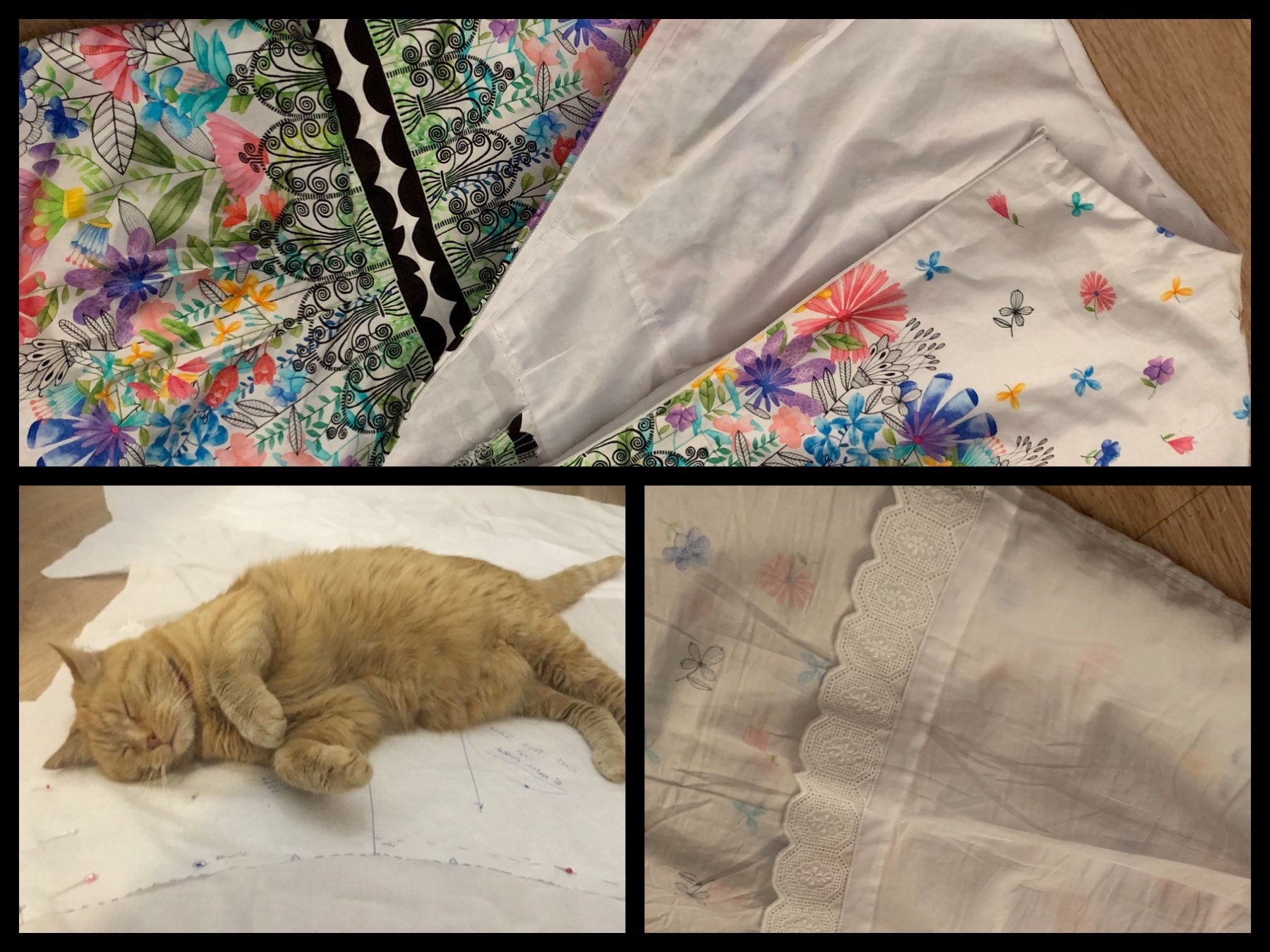 I've also fully lined my bodice and added pockets.. A Girl needs pockets..
If you where going to go for a border print jump suit I would op out of doing the middle yoke band- you will get a much better pattern flow if your pieces are just a pant and bodice top.
I did contemplate joining my yoke pieces to the top bodice but due to the styling of the bodice pattern- it had a real curve to it- I decided against that option and kept with my chop and pray method of sewing.
I pattern matched the best I could, knowing this design would never have a perfect match to it, but the back was quite easy to get a good pattern match and you would never guess there was a waist yoke pattern, between the pants and top bodice.
Once it was all together and the zip was in- the moment of truth came.. would it fit….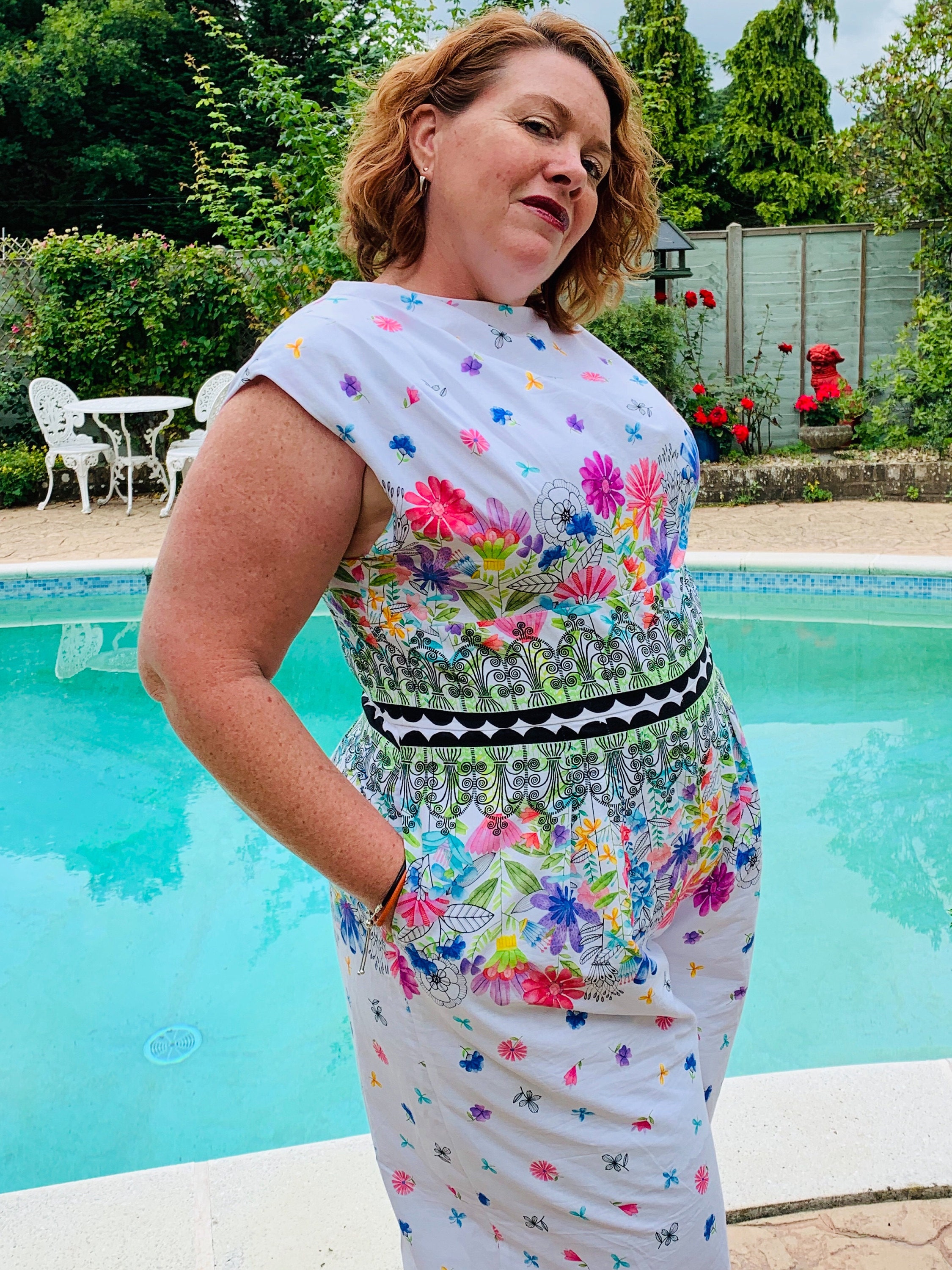 Well I knew the pants would, because I tried those on the moment I had made them. I was a bit worried I would look like 'Krusty the clown', but hubby said it looked cool, very 70's. So I guessed they we're fine.
The neck felt like it was swallowing me and I was worried that I should have taken a gape dart from the front armhole..
Once I had taken quite a bit of time, in assessing the situation and working out the best method of breaking into a finished garment with the lest unpicking.
I decided to unpick my neckline, take in my shoulder seam in on an angle -reducing the area at the neck edge and dropping down the front and back neckline. Then to do a bind finish on my new neck edge.
The gapping at the front armhole isn't too bad, but if I was to make again- yes, I would make sure I remove a gape dart here and reshape my armhole a little.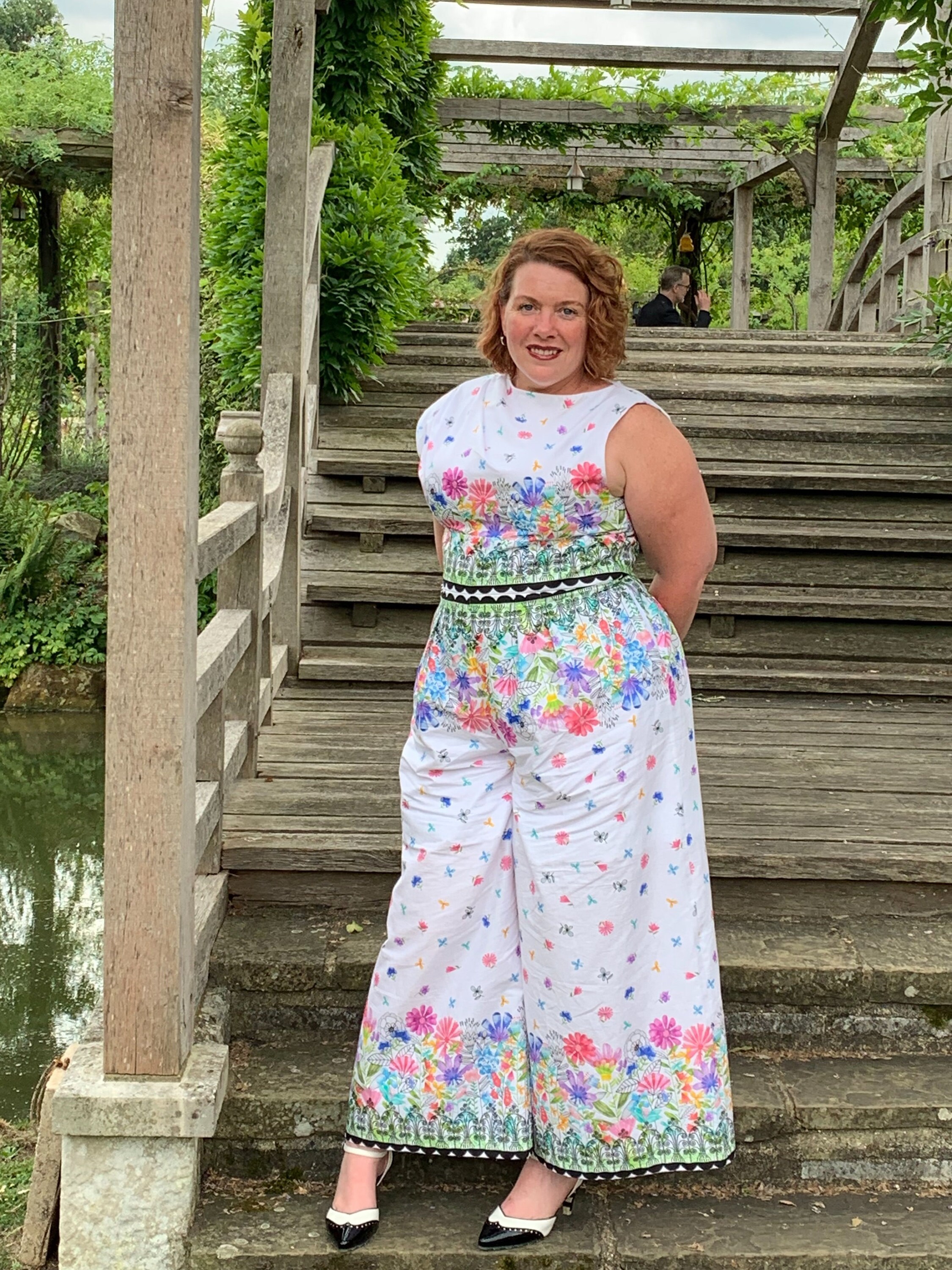 If I'm honest, I do feel it's a bit short and I need to add a little length to my leg length.
But I had a birthday afternoon tea to get to and this was the outfit for the day. So my leg lengthening is to be left for another time.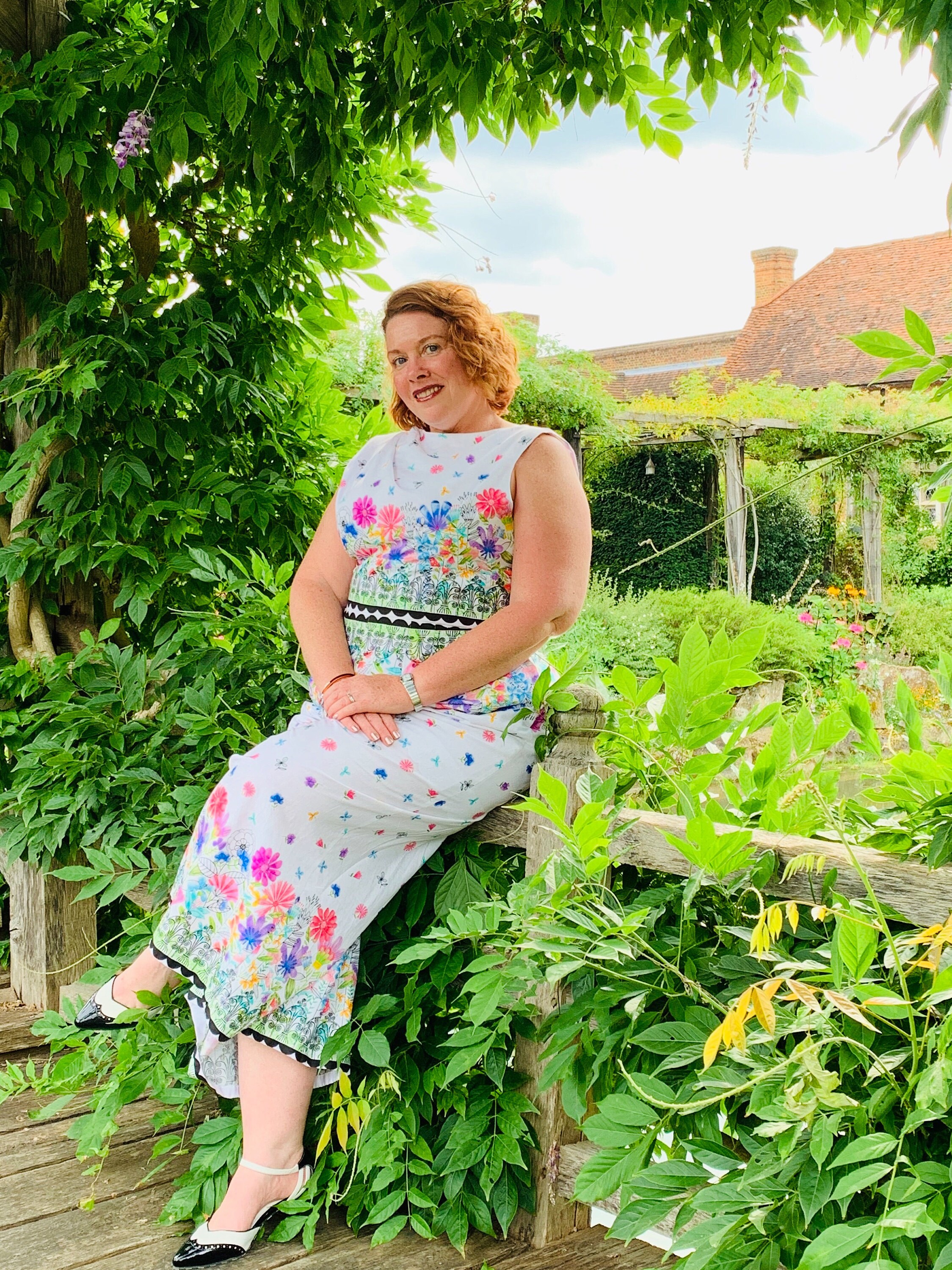 My mother in law says its fine as it shows off my shoes, but being a fussy seamstress, I hate ankle swing pants- it's a bit of a pet hate and it's on this weeks job list. Once thats done I will be very happy with my double border print jump suit and cant wait to make another..
4.5m meters of border Print, Micheal Miller Les Jardins 112cm wide fabric.
I hope this has inspired you to think about what you can make with border prints and a jumpsuit is something a little out of the ordinary.
Yes, I know its a little fabric calorific, but I would rather have one show stopping piece than 10 not so..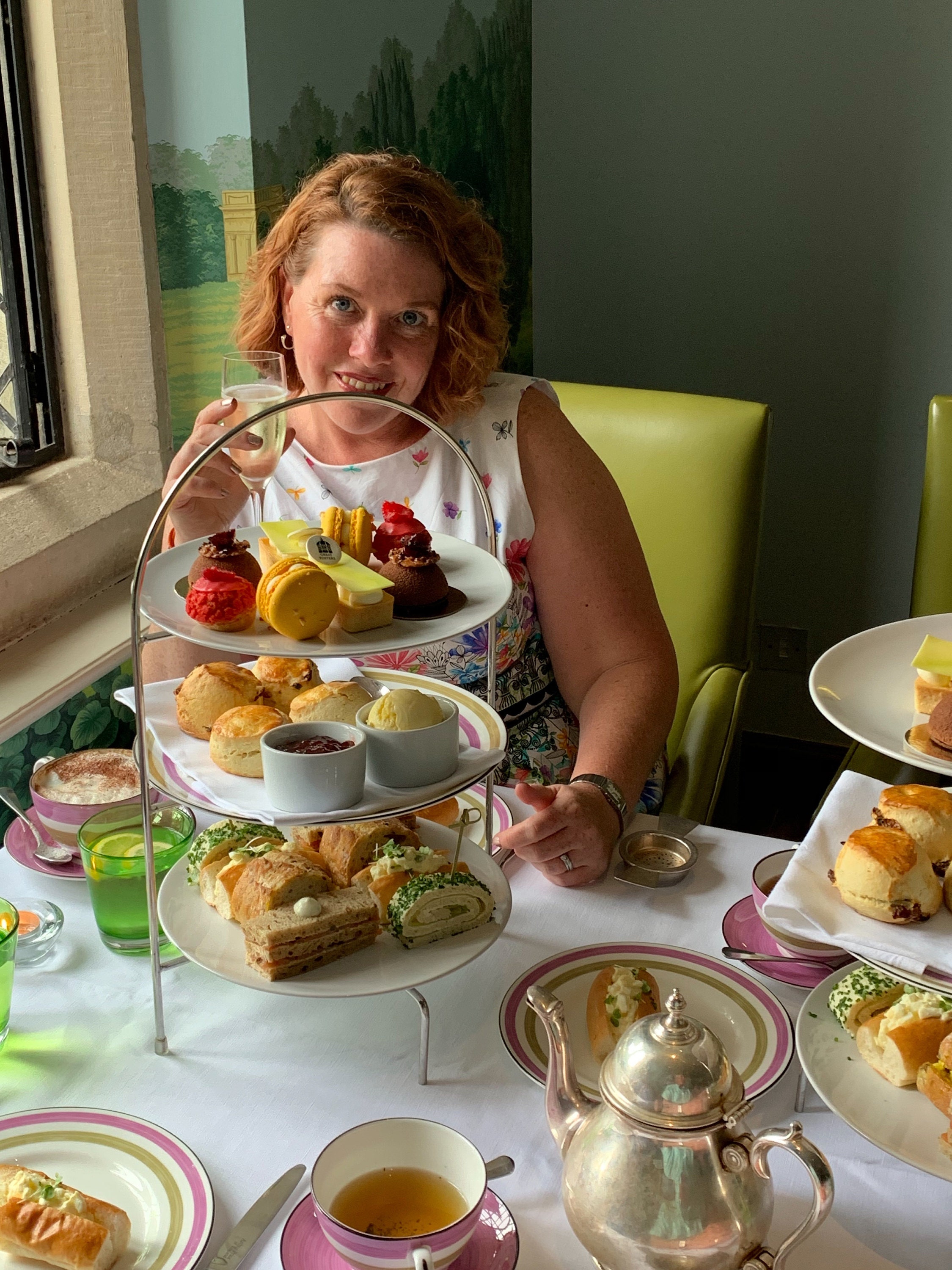 ---
Share this post
---
---
---
0 comment